Why Choose Us As Your Koh Samui Florist ?
1. Because we care! Flowers By Jack has been serving Samui since 2007. As the leading English/Thai speaking flower shop in Ko Samui, we cater for all your floral needs, whatever the occasion, big or small. We are also the Island's No.1 for online flower and gift delivery, so order now for fast free delivery of Flowers, Plants, Gift Baskets & other Gifts across Koh Samui.
2. Extensive Collection: Our extensive collection of flowers ensures that you will find the perfect arrangement for any occasion. From elegant roses to vibrant lilies and charming mixed bouquets, our expert florists carefully curate each arrangement to delight and impress the recipient.
3. Freshness Guaranteed: We understand the importance of delivering fresh, vibrant blooms. That's why we source our flowers directly from local growers, the best flower markets and international sources and meticulously inspect each stem for quality and freshness. With Samui Flowers, you can be confident that your bouquet will arrive in pristine condition, lasting longer to bring joy and beauty to any space.
4. Convenient Online Ordering: Busy schedules should never hinder your ability to show you care. Our user-friendly website allows for seamless browsing and secure online ordering from the comfort of your home or office. Select your preferred arrangement, add a personalized message, and leave the rest to us. It's never been easier to express your heartfelt emotions.
5. Prompt Delivery: We understand that timely delivery is crucial to ensure your surprise arrives when you want it to. With our efficient delivery system, we make it our top priority to fulfill your order promptly. Our dedicated team works tirelessly to ensure your bouquet arrives at the designated location, right on time.
6. Unparalleled Customer Service: At Samui Flowers, we pride ourselves on going above and beyond to exceed your expectations. Our knowledgeable and friendly customer service team is always ready to assist you, ensuring a smooth and delightful shopping experience. Whether you need advice on selecting the perfect arrangement or have any inquiries, were here to help.
Spread Love and Joy with Samui Flowers
Make every moment exceptional with Samui Flowers. Whether you're celebrating a birthday, anniversary, or simply want to express your deepest emotions, our exquisite floral creations are the perfect way to convey your sentiments. With our attention to detail, commitment to freshness, and exceptional service, we guarantee that your experience with Samui Flowers will be nothing short of extraordinary.
Place your order today and let us help you create unforgettable memories through the language of flowers. Samui Flowers - where every petal tells a story.
Arrangements on this page are random but you can click the menus above to search. Firstly, by Occasion ( Birthday Flowers, Valentines Flowers, Get Well Soon Flowers etc.) Secondly, by Flower Type (Orchids, Roses, Lily etc.).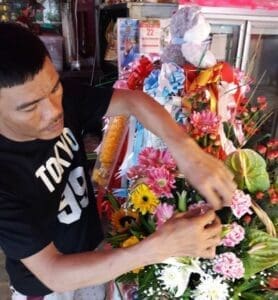 How to pay?
Whilst browsing choose the currency you are familiar with for your convenience, final payment is made in Thai Baht (THB). Once you have chosen your gifts you can head to the check-out and pay quickly and securely using your Credit/Debit card. If you have a Thai bank account you can also pay via QR Code Promptpay.
Not sure of something? Please get in touch!
Got a question? then please don't hesitate to contact us. You can also press the "Chat" button at the bottom of this page. If we cannot chat immediately then please leave a message and we will get back to you soon!
Remember – We're not an agent, we're here on Samui delivering great service to you and beautiful flowers & gifts across the island.
Never been to Thailand? Find out more about our Amazing country here.